A major study reports little change in mental health status in the media industry over 18 months:
People are always anxious and depressed.
Many have low self-esteem.
A good night's sleep is elusive.
Workplace programs like yoga, healthy eating, and mindfulness don't help much.
50% say they drink more during confinement.
But we are more accepting of mental illness.
Levels of stress, depression and anxiety in the media, marketing and creative industry have not changed significantly in 18 months, according to the latest research backed by UnLtd, the social purpose organization.
Many see a disconnect between public statements supporting mental health and the effectiveness of workplace initiatives.
Companies pretend to care, they say. Shiny posters, yoga classes, mental health first aid and mindfulness initiatives are not enough. They want real, empathetic leaders.
Results from a follow-up to a landmark study in 2018 show that 56% of respondents have mild to severe symptoms of depressionexactly the same as the first survey.
With anxiety52% have mild to severe symptoms, up from 55% in 2018.
One in five people (20%) show signs of severe or extremely severe levels of stress. More than half (54%) have mild to severe levels.
The Mentally Healthy research, conducted by Everymind, Never Not Creative and UnLtd and supported by the Mentally-Healthy Change Group, measures depression, anxiety and stress as well as attitudes towards mental health in the workplace.
This is a follow-up study to the Mentally Healthy 2018 study. This time over 1,500 media, marketing and creative industry employees took part in the survey in February and March of This year.
Comments during last survey:
"My manager routinely makes fun of mental illness."

"Organize staff so that employees are less stressed and potentially have time to participate in the health and wellness programs that companies 'pretend' to provide."
Solutions: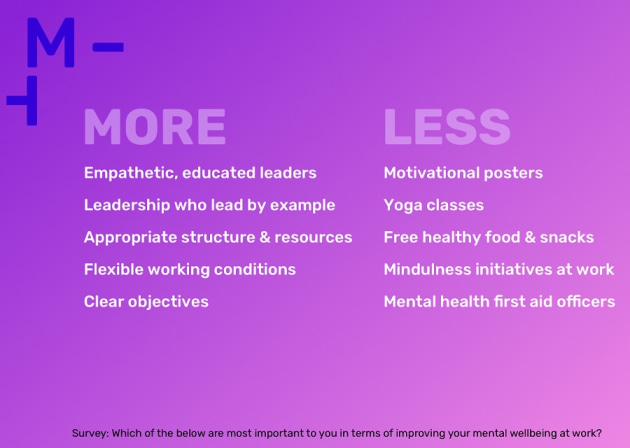 Another study involving more than 560 people was conducted in May to measure the impact of COVID-19.
This pulse study showed, at least in the short term, that COVID-19 had only a minor impact on mental health, with a slight increase in depression (58% vs. 56%) and a slight decrease in anxiety (46% versus 52%). %) compared to February results.
Further research will be needed to explore the longer-term impacts of the pandemic.
The 2020 results show a positive improvement in stigma around mental health. Almost a quarter (24%) of respondents would now disclose if they had been diagnosed with depression.
But 22% believed others would not be treated badly if they revealed a mental illness in the workplace.
At the workplace level, there was a clear difference between the perceived priority of mental health in their workplaces and the perceived effectiveness of workplace initiatives.
While 23% of respondents felt mental health was a high priority in their workplace, only 6% felt their organization was very effective at addressing mental health.
One of the main objectives of the study was to identify initiatives deemed effective and useful in improving well-being at work.
The areas that were seen as most important for improving mental health in the workplace were empathic and educated leaders who lead by example; appropriate structure and resources; flexible working conditions and clear objectives.
At the other end, motivational posters, yoga, healthy foods, and mindfulness initiatives were listed as least important.
More than half (54%) of respondents showed mild to severe stress levels, with 20% showing signs of severe or extremely severe stress levels, with no significant difference in the COVID-19 study.
The top stressors were consistent with the 2018 findings, with the top three being pressure from our own expectations, pressure from others, and multiple responsibilities.
The study also showed that many struggle with poor sleep quality and low self-esteem, with more than half of respondents reporting poor sleep quality and only 38% rating their self-esteem as high.
In terms of coping, most respondents showed a preference for healthy coping methods. However, 45% consumed alcohol at dangerous or harmful levels.
The COVID-19 Pulse Study further identified an increase in alcohol consumption with more than 50% reporting that their alcohol consumption had increased during the lockdowns.
At the same time, many positive coping methods have also increased during the pandemic, with 47% of respondents increasing their physical activity and 79% increasing the number of conversations with friends and family via video chat.
Nina Nyman, CMO of UnLtd and co-chair of the Mentally Healthy Change Group, says the findings around stigma are encouraging.
"It's great to see the stigma numbers improving," she says.
"The 2018 findings identified high levels of stigma in our industry and many of the projects the Mentally Healthy Change group has worked on have focused on removing stigma and encouraging people to speak up when they need help.While depression and anxiety levels have remained high, it seems that we are getting better at talking about our mental health and asking for help.
Andy Wright, founder of Never Not Creative and co-chair of the Mentally Healthy Change Group, says leadership is the key to tackling mental health in the workplace.
"The results show clear feedback on where people think organizations should focus and it all starts with empathetic, educated leaders leading by example," he said.
"In an industry that is relentlessly focused on work, we need to start educating on what an intense focus on people looks like.
"It's something that just isn't taught enough and I know it's something I've never been taught. We're products of our environment. We need to focus on that before to invest in yoga classes and mindfulness programs, if we want to improve things significantly."
The mental health and well-being of Australians in every workplace is a shared responsibility according to Associate Professor Carmel Loughland, acting director of Everymind, the institute which conducted the research.
"Make no mistake, it's been a tough time for many and we know people are struggling, especially those in media, marketing and the creative industry," Loughland says.
"We are committed to learning, listening and exploring through research how and in what ways we can support communities and individuals. We are committed to meeting the specific needs of those who make a significant contribution to the community, such as people who work in the media, marketing and creative industries are not just heard, but addressed."
If you or someone you care about need help, contact:
Lifeline 13 11 14
Suicide Reminder Service 1300 659 467
MensLine Australia 1300 78 99 78
Beyond the blue 1300 22 4636
Do you have anything to say about this? Share your opinions in the comments section below. Or if you have any news or a tip, email us at adnews@yaffa.com.au
Sign up for the AdNews newsletter, like us on Facebook or follow us on Twitter to break stories and campaigns throughout the day.