The Advertising Council Australia (ACA) has released the findings of its Creating Space Report and Action Plan – a comprehensive review of diversity and inclusion in the Australian advertising industry.
The data comes from the December 2021 Create Space Census, which attracted 2,600 responses from industry advertising professionals.
Tony Hale, CEO, Advertising Council Australia: "The advertising industry has always been very inclusive in nature, providing opportunities for different people, different paths and embracing different opinions, values ​​and approaches to how we work. But we also know that as an industry we are not perfect.
"There have been black spots in our history and blind spots that have marred our progress. If the industry is to continue to be truly inclusive, we must be vigilant in moving with the times and setting accepted minimum standards.
Create Space has been brilliant in providing us with solid data for the very first time, which is helping us shape our future DE&I strategy and ensure we remain relevant and open to new people and ways of working in the future.
"At the start of what should be a long-term initiative, this gives us three clear action points to start addressing the key issues around gender, mental health and negative behaviors seen in the sector.
"In launching the Creating Space report and action plan, we must recognize that this is not the finish line but the starting line of a better, stronger and more more inclusive."
These graphs summarize the results: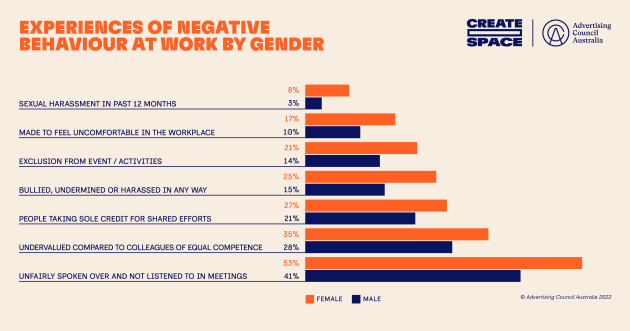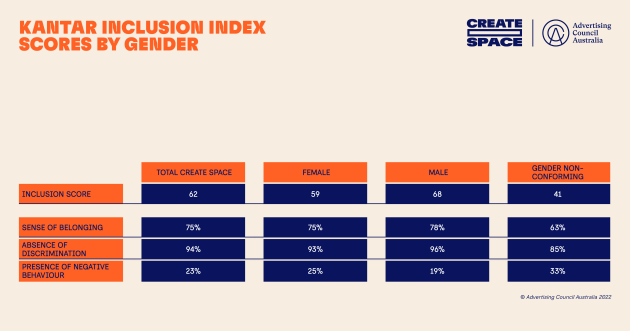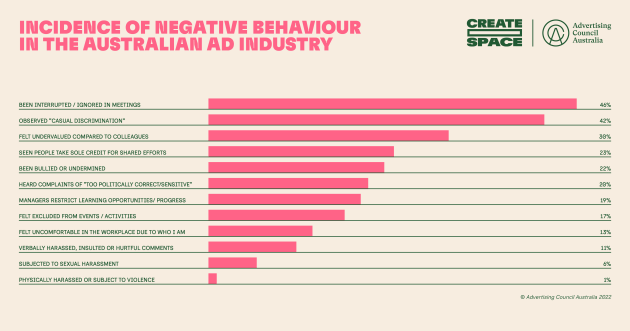 Do you have anything to say about this? Share your opinions in the comments section below. Or if you have any news or tips, email us at adnews@yaffa.com.au
Sign up for the AdNews newsletter, like us on Facebook or follow us on Twitter to break stories and campaigns throughout the day.