A new era of advertising is taking shape. Driven by growing consumer concern about how their personal data is collected and used, governments are enacting laws and tech companies are implementing platform changes that will forever alter the relationship between consumers and advertisers.
"A profound – and abrupt – shift is coming for everyone who uses the internet," according to a new report from McKinsey & Co. conducted in partnership with the Interactive Advertising Bureau (IAB). "By 2022, regulations designed to protect consumer privacy and big tech companies will require users' explicit permission to share and use data generated from digital interactions. The change will be a settling of scores for the advertising industry.
This change will also have a seismic impact on retailers, but not necessarily negative:
First-party data will become the crown jewel of marketingand retailers, unlike many other industries, have been collecting information about their customers for years;
The death of the third-party cookie is likely to breathe new life into retail media networks; and
Consumers are generally willing to agree to share their data if they get something of value in return, such as recommendations and personalized offers.
The disappearance of the third-party cookie
The EU paved the way for these changes in 2016 with its General Data Protection Regulation (GDPR), which has set strong guidelines for protecting and sharing consumer data. The United States is slowly following suit: California has passed its own Consumer Privacy Act (CCAC) in 2018, and new national legislation was introduced in the US House of Representatives earlier in March.
However, Google declaration that it wouldn't replace third-party cookies with another type of tracking ID when it stops supporting them on Chrome in 2022 sparked more frenzied concern among marketers than these legislative and regulatory changes .
Combine that with the fact that Apple will make its Identifier for Advertisers (IDFA) – which does for apps what cookies do for websites – opt-in instead of opt-out with the iOS 14 update in September. , and you have an advertising and marketing industry scrambling for alternatives.
The rise of proprietary data
There seems to be a clear answer for where to start: first party data.
According to Orchid Richardson, SVP of the IAB's Programmatic & Data Center, one of the most important things companies can do to prepare for these changes is to optimize their proprietary data channels. "Amass and mine a first-party dataset and ensure it can be mapped to other datasets to gain additional insights. Make sure it's a compliant exchange that benefits both the audience/consumer and the brand/publisher," she said in an interview with Retail Touch Points.
Retailers have a head start in this area as they have been collecting a treasure trove of first-party data for years, through Loyalty programs, surveys, subscription services, Point of sale systemsand more recently apps and e-commerce websites. The raw material is there, you just have to use it in the right way.
"The ability to monetize data, in a safe, secure and privacy-friendly wayis probably one of the biggest challenges of the next decade for retail," said Hilding Anderson, Head of Retail Strategy, North America at Publicis Sapient in an interview with Retail Touch Points.
In fact, phasing out third-party tracking identifiers such as cookies may actually open up a new opportunity for distributors to claim a central role in the advertising ecosystem.
Many large retailers are doing just that with the creation of retail media networks. Advertising on Amazon has become ubiquitous (and everyone agrees very profitable for the company), and other players, including Target, Kroger, walmart and Walgreensenter the dance by launching their own internal advertising operations.
Personalization that doesn't sacrifice privacy
There's another wealth benefit that first-party data retailers already have at their fingertips: the ability to create the kind of personalized experiences that consumers now demand.
In one study from Liveclicker and Sailthru, 62% of respondents said it was important for brands to personalize their online and in-store retail experience. The key to collecting consumer data without turning off customers is transparency and an exchange of value.
"Privacy is a weird animal, because we talk about it a lot, these laws come out of it, but the consumer doesn't care until it goes bad, like what happened with Targetsaid Tom Kaneshige, director of content at the CMO Council in an interview with Retail Touch Points. "If it doesn't affect them personally, the younger generation isn't so concerned about privacy. They just want to make sure they get something out of it.
As Sue Hogan, senior vice president of research and analytics at the IAB, put it in a recent statementpublishers, media companies and retailers must "reinvent reciprocityin this new privacy-centric landscape.
"It's a balance between good personalization and knowing your customer and [those customers'] very reasonable expectations of privacy," Anderson said. "I think most customers say, 'I trust you as a brand, so I'm going to let you use the data on your website, but not follow me around the web and watch every Facebook post. There's a way forward here, but it's a way that needs to be very privacy-friendly while still enabling some of the great experiences that you can enable through personalization."
The good news is that the activation action – whether signing up for a loyalty program, subscribing to an email list, or logging into an app or website – gives retailers more freedom to then take the data that they collect and use them to offer personalized assortment selections, promotions and announcements.
A growing reliance on "walled gardens"
Of course, first-party data won't entirely solve the loss of tracking IDs for top-of-funnel marketing activities, such as lead generation and outreach campaigns.
A likely result will be an increase use of the so-called "walled gardens" of Google, Amazon and Facebook, to name a few. These closed ecosystems keep the majority of their data locked inside. While many offer advertising options, the downside is that information about these ads is limited to what the platforms are willing to share. This makes the ability of marketers to attribute impact and spend beyond the "garden walls" nearly impossible.
This is partly the reason why a number of recent lawsuits suggest that, while framed in the context of consumer advocacy, the intent behind Google and Apple's upcoming platform changes is not completely altruistic. By removing the ability of other companies to track consumers in their ecosystems, Apple and Google's own data and advertising solutions are set to become even more valuable.
"Google is trying to hide its true intentions behind a pretense of privacy," attorneys general from 14 U.S. states and Puerto Rico said in an antitrust lawsuit filed earlier this month, as reported. MediaPost. "Google doesn't actually end user profiling or targeted advertising – it puts Google's Chrome browser at the center of tracking and targeting."
Some experts also suggest that these precautionary self-regulations are just a way to avoid what would likely be much tighter restrictions if governments and regulators took the lead.
"An opportunity to rebuild the advertising industry"
No matter how the cookie crumbles, marketers and advertisers are in a tough spot, even if Richardson sees an opportunity.
"It's about consumers having a clear understanding of why marketers need their data and holding those marketers accountable," Richardson said. "We have the opportunity to rebuild our industry in a people first and privacy first path while conveying the value we bring.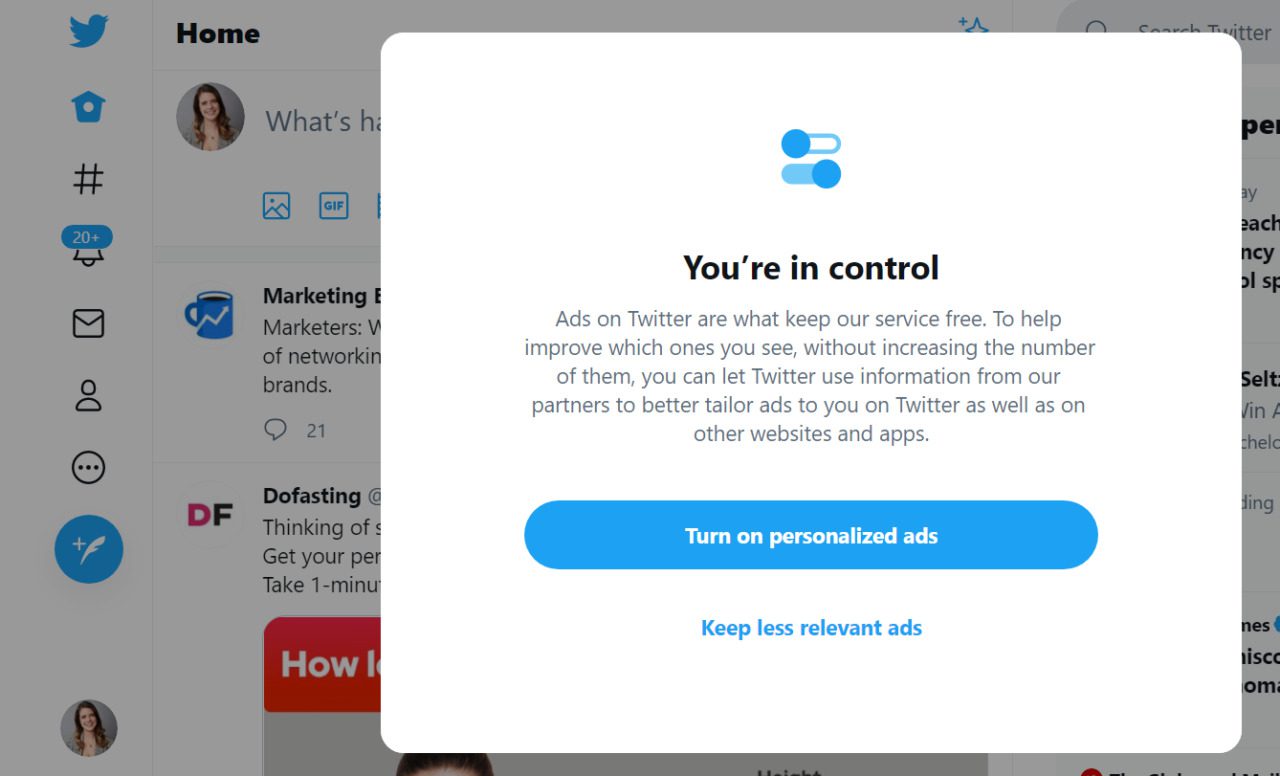 Major social media platforms are already trying to convey this value. Facebook launched an advertising campaign to convince consumers to enable personalized advertisements; Twitter runs pop-ups on login with the same purpose. Meanwhile, TikTok sidesteps the persuasion: the platform simply let its users know that opting out of personalized ads was is no longer an option.
As all of this unfolds, one thing is clear: retailers will be in a prime position in the new privacy-centric era of the internet. Retailers and brands are, in fact, uniquely positioned to respond to conflicting consumer demands for privacy and personalization in a way that paves the way for more meaningful and valuable customer relationships on both sides of the planet. equation.